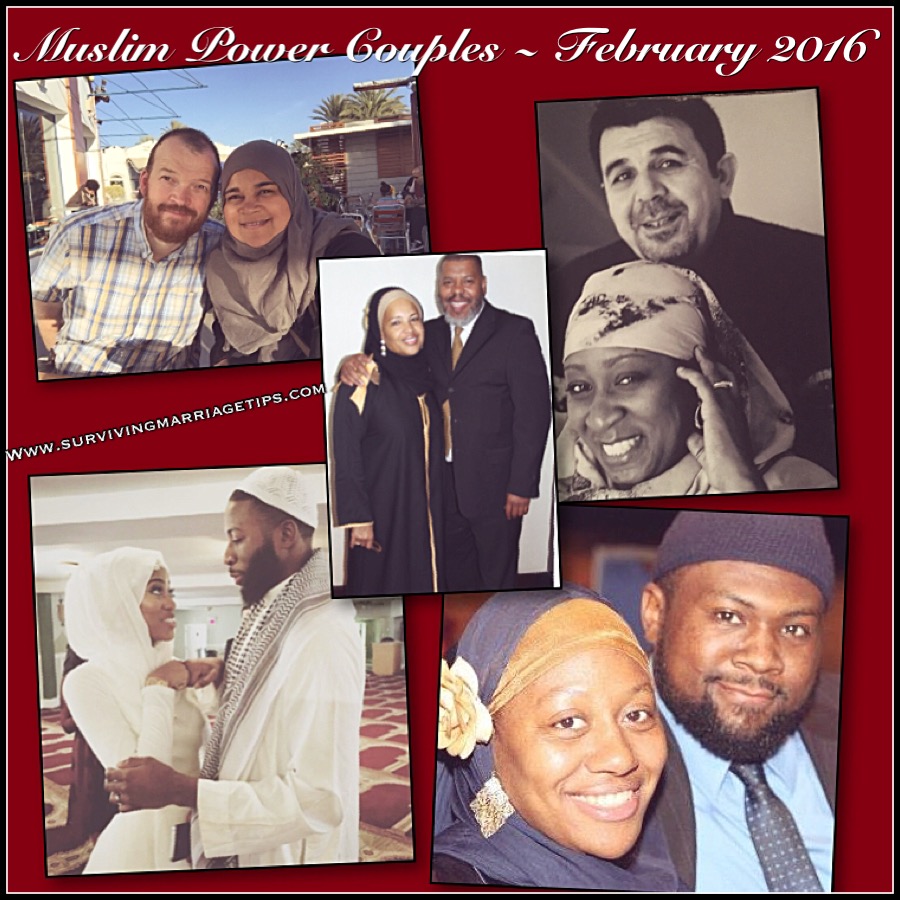 Muslim Power Couples – The Blog Series
February 2016
Yes, it's been a minute since the last Muslim Power Couples Blog Series Post but it has been part of the plan to take this to another level. This past week it was met with great excitement by an article on BuzzFeed that was also published on the Huffington Post and two other news outlets. Not only does that mean lots more writing in store bringing couples to light, but it also means that people are taking notice.
We are now two years into recognizing Muslim Power Couples so it's about time we change things up a bit. Since there has been much buzz about this honor people tend to want to nominate couples that they feel are worthy and notable. Although we appreciate the insight and input, this was never started as a nominating platform. For those that do not know, how couples make the cut, here are a few guidelines for who shines.
It's not a contest. It's about how you live your every day lives. That's the real, authentic you. Someone in your community or on social media is going to know you. We like to show the masses that there are real, positive images regarding Muslims, marriages in Islam and religious family life that is not stressed, oppressed or a hot mess. #MuslimPowerCouples #SurvivingMarriage
In some circles, we are known as a Power Couple but in a room of at least 10 mainstream people, we are normally the only ones that look and represent the way that we do. Our work within our marriage platform has afforded us many once in a lifetime opportunities. We feel we are breaking barriers for other Muslim couples, especially African Americans, in order to bring a better understanding to our lifestyle. There is so much going on in the world, and specifically America, that is trying to tear down and destroy Islam and all of the good that it represents, we are putting forth positive images of Muslim Marriages the can't be denied as a result of maintaining faith and life balance.
We, hubby and I, are fortunate enough to be surrounded by wonderful images of Muslim Couples on Facebook and Instagram. Daily, we see Muslim men and women, married couples, living, laughing and loving out loud. So wow, here came the thought, why not spotlight these duos. Why not show the images of positive, striving Muslims who have fun, who are stylish, who are playful and who enjoy not only married life, but life in general.
This group of couples, just like all of our other group over the past two years, is filled with a full scale of how Islam is represented. Breaking the stereotype of Muslims as not being fun people is not only being done by these couples, but they share their experiences on Facebook and Instagram. We love to include an array of couples not only in years of marriages stemming from newlyweds to thoroughbreds, but also in occupation, ethnicity, geography and influence. Muslims live life with missions and purposes and also put work into maintaining their marriages. Not only do Muslim marriages thrive, but they are also colorful. These couples are connected in missions and design for bringing families into the 21st century with vision. Who are they you say?
Soooo…here ya go. A few reasons why these "sunset duets" put smiles on our faces. Starting from the Top L and continuing clockwise –
Saiyyidah Zaidi & Idris Stone, Global

Living life a wanders on this vast earth, giving their children as gifts to Islam and never being confined to space and time, this couple has lived in holy matrimony for over 13 years and always tries to remain in service. The Muslimah Millionaire motivates Muslim women to become independent and powerful in business while dad teaches and markets. You may run into them in an airport as they jetset across countries.
Nisa Islam & Abdul Jalil Muhammad, Silver Spring, MD

Muslim marriages are in good hands with this couple, who are part of the 20+ Years and Beyond Club, by constantly finding ways to live by example and project a message to the people. From the state of black marriages and outstanding workshops, to Muslim media and fashion, if you ever get a chance to sit in their presence, you will now real when you hear it. The best of examples are the ones that give back so that others may learn and grow. This couple gives til it hurts.
Linda Franklin & Ibrahim Yildirim, Alabama

Interracial marriage has been and will always be a part of Islam and being Muslim. There is no racism in Islam and the diversity of the people who practice the faith runs deep. This couple not only blends race & ethnicity but also family. Just over the 7 year itch, living a small town country life of service in health & education, this laid back couple makes you smile as you see them continue to figure it out as they go along.
Shahidah Sharif & Sulaimaan Hamed, Atlanta, GA

Dedicating not only your lives, but your marriage as a husband and wife team, to help devout Muslims complete their obligations to Allah, is reward within itself. Being the wife of an highly respected and well known Imam, as well as being that Imam, brings constant challenges into a marriage with time and commitments. This couple, recently celebrating 15 years of marriage, continues to stay committed by organizing the trek to the Holy Land for detachment from the dunya and re-connection with the Creator.
Aaleeyah Pringle Alim & Jabril Alim, Atlanta, GA

Oh that NEWLYWED bliss! This couple, recently married and recently relocated is having total fun in the process of it all. Not only did they meet and relocate for marriage, they have also relocated to further their education. Proving that if you move your feet and stay strong in faith, things will work itself out for the good. The duo graduate students brings the millennial swag to Muslim marriage in the 21st century.
Muslims are the most diverse, well rounded, well traveled group of people you will come to know. Happy, honored, and humbled to be in such great company. This is a BLOG Series with groups of couples posted every month (maybe lol). We continue to stay pretty busy so we have not posted since August 2015. This year promises to be different as we are doing new and different. If you missed  any of the Muslim Power Couple posts you can check the archives.
This new group of Muslim Power Couples will be receiving our new Surviving Marriage Kits for FREE! In our efforts to help keep marriages healthy, we have added some tool kits to help people with ideas in order to connect with their mate. You can find them at www.survivingmarriagekits.com
For more great Marriage Tips, be sure to watch our Surviving Marriage Monthly Webcast.
Survive & Thrive in Marriage! To order a copy of our book Surviving Marriage in the 21st Century, CLICK HERE to go to Amazon.