What They're Saying About Rufus & Jenny
"I saw you guys giving a workshop last year. This year I am giving my own. You inspire me so much"

Saffiyah A

Educator
"Rufus-Jenny Triplett so my husband read some of your book the other night because I left it on the coffee table. Then he came and started asking me questions.....I was like"

Iman B

Wife
"Surviving Marriage in the 21st Century by Rufus-Jenny Triplett is on my Amazon wish list for books to read"

Samuel W

A Fan
"When I get married I'm going to take y'alls advice."

Mikki C

Workshop Attendee
"Today's social media event was very informative & mind blowing. Very thankful for Rufus & Jenny."

Latoya T

Entrepreneur
"You give such good information.I could listen to you talk all day"

Afshan M

Non-Profit Coordinator
"Alhumdulillah it was a blessing to get in on the three sessions presented by Rufus-Jenny Triplett. It was a great eye opener for myself as a struggling writer with very helpful important and progressive information. I can't wait to finish what I've started using their helpful advice. I encourage everyone to check out the books and CDs. Thanks Rufus and Jenny"

Anonymous
"Today's social media event was very informative & mind blowing. Very thankful for Rufus & Jenny"

Latoya T

Workshop Attendee
"Rufus-Jenny Triplett you are so correct when you say today's parents need to be parents; nonetheless, folks must admit their part and roll so that teaching the next will be a well lesson learned"

Robin H

Social Media Fan
"Juicy topic for panel at ISNA: "Surviving Marriage, Divorce, and the Search for Bae in Islam." Full house and overflow, definitely a topic that Muslims are struggling with these days #ISNACON"

Dr Rose Aslan

ISNACON
"As Salaamu Alaikum! Thank you for all the wonderful work you do and for showing such a positive image of Islam and marriage. This is just a little gift to say thank you and I appreciate you"

Asiyah

Fan
"Dear Mrs Triplett, I admire the service that you and your husband provide to our incarcerated loved ones. You are amazing! Than you for being such a light!"

Janet Thomas

Author of - Lemons, Lemonade and Light
"Thank you for allowing me to attend your program. It was very enlightening, even though I am not Muslim. I will put the information to good use. Thank you!"

Kendra Stewart

Workshop Participant
"Thank you so much for being on the show. More than that, however, I want to thank you for helping me break out of my box. You guys must keep doing all that you're doing to help others. Our paths may cross again one day and if they do I will hug you both. God Bless you both!"

Kellie Frazier

Author of Love Differently, Stay Married
"Sister & Brother Triplett, Thank you for taking the time to go this journey. I believe with Allah's help many holes will be filled , positive doors will be opened & hearts will be set free. May Allah Bless You Always"

Sister Katrina
"Rufus-Jenny Triplett you are so correct when you say today's parents need to be parents; nonetheless, folks must admit their part and roll so that teaching the next will be a well lesson learned"

Robin H

Fan
"As Salaamu Alaikum, Thank you sooo much. I really appreciate the tips to a successful marriage. JazakAllah. They really made my day and will be put to great use."

Ayesha - Nikol Lawson
"Alhumdulillah it was a blessing to get in on the three sessions presented by Rufus-Jenny Triplett. It was a great eye opener for myself as a struggling writer with very helpful important and progressive information. I can't wait to finish what I've started using their helpful advice. I encourage everyone to check out the books and CDs. Thanks Rufus and Jenny."

Anonymous

Satisfied Customer
Marriage Fragrance
What is in the fragrance that is sweeping the country as the next Love Potion #9? What is making everyone say "oooh that smells so good?
FOCUS GROUP FEEDBACK
Suraya Mohamed – 31 yr old female – "citrus scent, non-oily, light…fresh & clean"
Assma Asmayreh – 32 yr old female – "liked it alot after wearing it for a while"
Scott Martinez – 31 yr old male – "smells good, not intense…calming
Ashar Shah – 31 yr old male – "musky, soft…good for Muslim men. A mature smell."
Khaleda Eshanzada – 34 yr old female – "smells like lemon…rosy"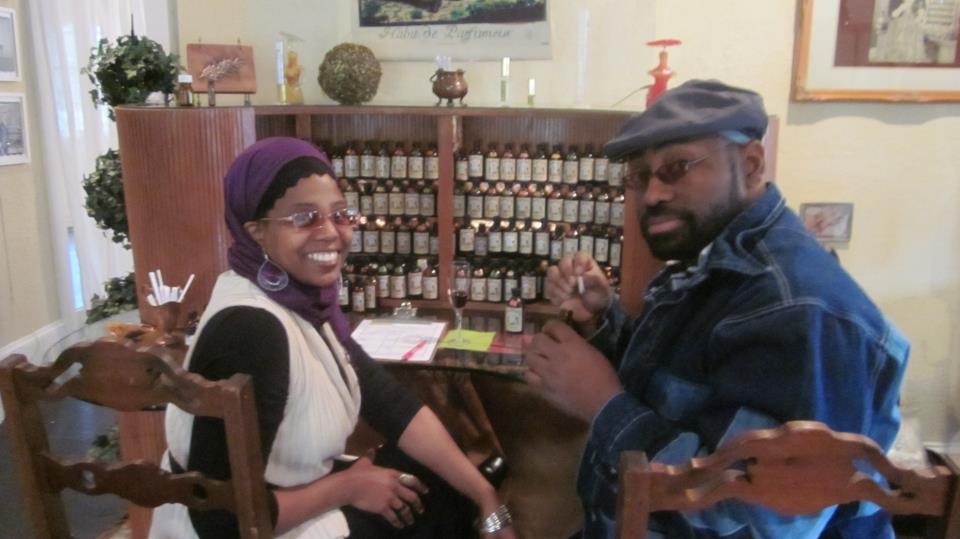 We can't tell you all of our secrets but we can tell you that it was comprised with love for love. We just created it and named it. What happens after that….we are not responsible.