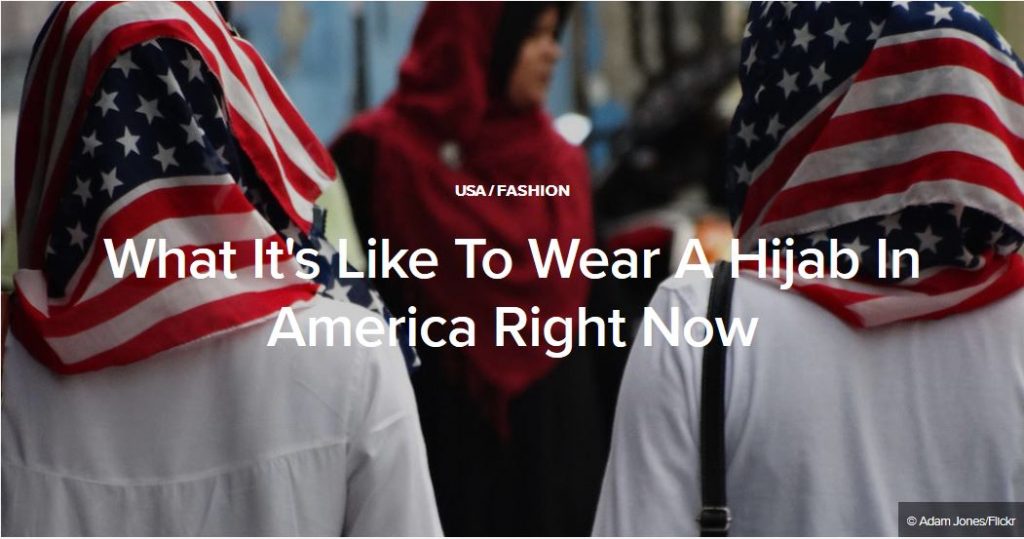 Article Repost via Culture Trip
When the United States elected as president a man who promised to ban Muslims from entering the country, millions of Americans had cause to worry about their style of dress. Passports, driver's licenses, social security cards do not list a person's religion. However, other signifiers, like a hijab, identify Muslim women as such. The personal is political, and has been for quite some time, but right now, style of dress makes more than a political statement. To wear a hijab under the reign of Trump indicates a so-called "otherness" easily visible to all Americans. Although Trump has since replaced the Muslim ban with a so-called "extreme vetting process," according to The New York Times, the anti-Muslim sentiment remains intact. So, the question becomes, what's it like to wear a hijab in America, right now? Culture Trip investigates.
YOu can read the article in it's entirety here. But here's where I am highlighted>>>
Another thing to understand about women who wear a hijab is that there is diversity in the women who wear it. Jenny Triplett, originally from Saginaw, Michigan, is a media personality, and co-host, along with her husband, Rufus, of a lifestyle TV show out of Atlanta, Georgia. Triplett is an African-American hijabi, who struggles with a public that doesn't know what to make of her. She's all good, however, with educating others on her identity. Triplett argues there's a dearth of African-American hijabis, and "although we [African-American hijabis] have been here for years, our voices haven't been heard. People look at me and can't figure out what my imagery is."
"We empathize with our Muslim brothers and sisters," Triplett says, "but we can't deny our blackness. When people look at us they see more black than Muslim."
The legacy of being African-American includes having "been in the trenches before, fighting for rights in this country," says Triplett. So, in Trump's America, she is unafraid of discrimination she might face because of her hijab. Laughing, she says, "I wish somebody would snatch off my hijab, but they wouldn't dare."
Modesty is altogether different from submission. Shah elaborates. "Just because we cover our heads and dress modestly, doesn't mean we can't feel good about how we look. The CoverGirl campaign has helped women (and men) put aside their differences and celebrate a common love for beauty. And as an American high school student, that is something that I and several other young Muslim women can relate to, especially with one of our sisters representing and leading it."
To boil wearing a hijab in America to a singular experience is not only reductive, it's unAmerican, something to bear in mind as the country prepares to live under a Trump presidency.