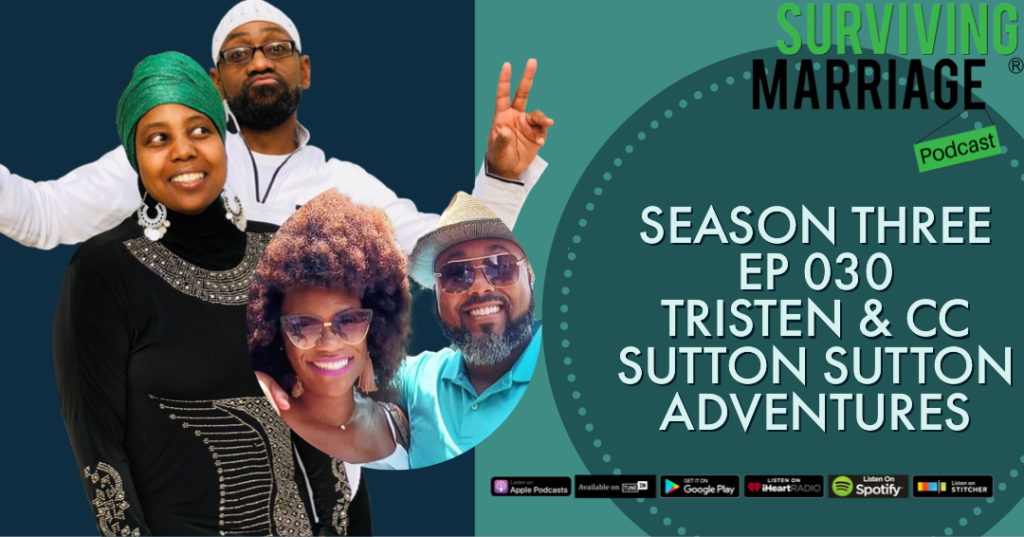 #SurvivingMarriage – Tristen & CC Sutton – Curators of Couples Experiences
Ep 030 – Yo Adrian, we we made it! Only a few will get that. It symbolizes the end of a journey. SZN three comes to an end with ten straight episodes of discussing couples in business.
Co-hosts Rufus and Jenny Triplett, husband and wife team, back on the mic and now also visual via their YouTube Channel, welcome guests, Tristen and CC Sutton, curators of couples experiences, for a fun and educating discussion about running a business that allows you to plan travel and travel with other couples. They are working and living a very cool existence.
This is the tenth and last episode of Season Three. The podcast has expanded to YouTube. Thanks for sharing it around social media. Be sure to share and tell a friend. If you are married, engaged or single, this episode is for you. Also, the insightful Food for Thought segment lists five people you should surround yourself with. This is the thirtieth episode of the Surviving Marriage Podcast. Be sure to SUBSCRIBE. RATE. and REVIEW. Oh, and follow on social media and share with a friend.
ANNOUNCEMENT – The Surviving Marriage Couples Card Game is now available! Pick it up HERE
"99 Problems but a card game aint one!"
SUPPORT OUR SPONSORS:
Use promo code PGLWP1 or LWP and Stay 3 nights & Save up to 50% on Sundays at participating Hilton Portfolio hotels worldwide. CLICK HERE

Enagic Machines – Text "healthy water" to 347.398.1867
Show Notes:
0:00 – Teaser – Travel Goals
1:07 – Intro
1:28 – YO Adrian, we did it!
2:13 – Go back and binge listen!
3:07 – New Book Coming 2020

3:33 – The dynamic of your marriage changes when in business together
4:54 – People don't understand 
5:26 – Couples experiences

8:49- Best trip to date
11:18 – Tristen and CC Sutton

13:10 – Making Marriage Great Again
16:17 – Dubai will make you feel…
16:38 – Favorite place to go and favorite travel story
19:45 – Dealing with problem couples
21:37 – Covid killed travel
23:23 – Get in touch with Tristen and CC
26:33 – Food for Thought – Never Compromise Yourself 

27:46 – ANNOUNCEMENTS – Be Sure to Subscribe. Share. Rate. Review.
30:07 – Ride Out…
Podcast: Play in new window | Download (Duration: 30:42 — 21.1MB) | Embed
Subscribe: Apple Podcasts | Google Podcasts | Spotify | iHeartRadio | Stitcher | TuneIn | RSS | More