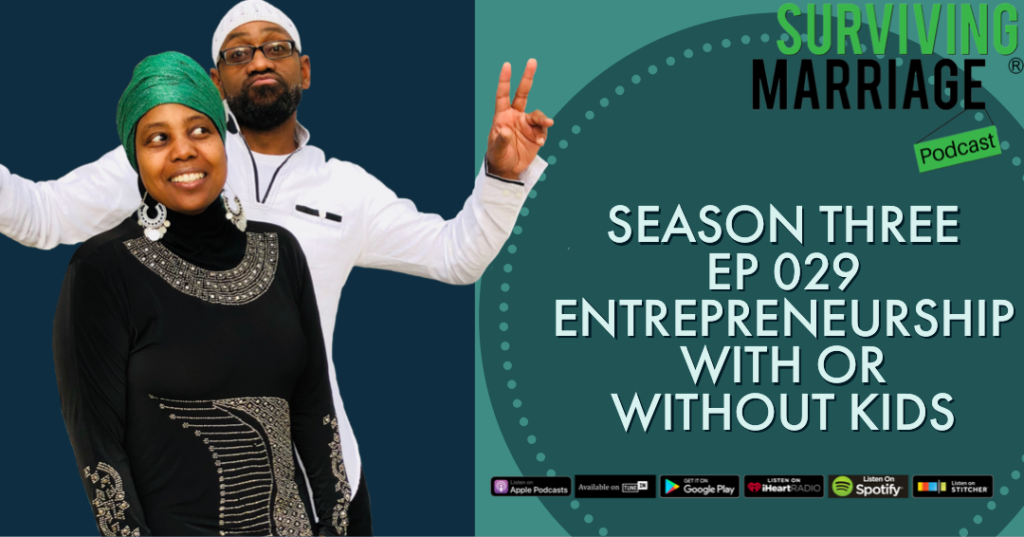 #SurvivingMarriage – Entrepreneurship With or Without Kids
Ep 029 – Did you miss the last episode? If so, listen to this one and then go back and listen to that one. Why? Because it talks about entrepreneurship and how you can get it done with kids.
Co-hosts Rufus and Jenny Triplett, husband and wife team, back on the mic and now also visual via their YouTube Channel, frankly discuss how you can become an entrepreneur with kids, tips on how you can get things done and also how they are thriving with an empty nest based on the choices and moves they made years prior.
This is the night episode of Season Three. The podcast has expanded to YouTube. Thanks for sharing it around social media. Be sure to share and tell a friend. If you are married, engaged or single, this episode is for you. Also, the insightful Food for Thought segment lists five people you should surround yourself with. This is the twenty-ninth episode of the Surviving Marriage Podcast. Be sure to SUBSCRIBE. RATE. and REVIEW. Oh, and follow on social media and share with a friend.
ANNOUNCEMENT – The Surviving Marriage Couples Card Game is now available! Pick it up HERE
"99 Problems but a card game aint one!"
SUPPORT OUR SPONSORS:
Use promo code PGLWP1 or LWP and Stay 3 nights & Save up to 50% on Sundays at participating Hilton Portfolio hotels worldwide. CLICK HERE

Enagic Machines – Text "healthy water" to 347.398.1867
Show Notes:
0:00 – Teaser – How did we get it all done with kids?
:55 – Intro
1:40 – Everything is a reboot
2:49 – NEW BOOK COMING 2022
4:04 – Royalty payments

5:11 – Didn't want to work for the man
6:45 – A product or business will continue to pay your family

7:25- How to get it done with children
8:05 – Social media can be a huge distraction

9:33 – Work on your goals after the kids go to bed
10:11 – Our kids were disciplined
11:38 – Prioritize while building
12:21 – 8 Streams of Income
18:27 – Food for Thought – Five Types of People You Want To Surround Yourself With

21:16- ANNOUNCEMENTS – Be Sure to Subscribe. Share. Rate. Review.
23:19 – Ride Out…
Podcast: Play in new window | Download (Duration: 23:50 — 16.4MB) | Embed
Subscribe: Apple Podcasts | Google Podcasts | Spotify | iHeartRadio | Stitcher | TuneIn | RSS | More