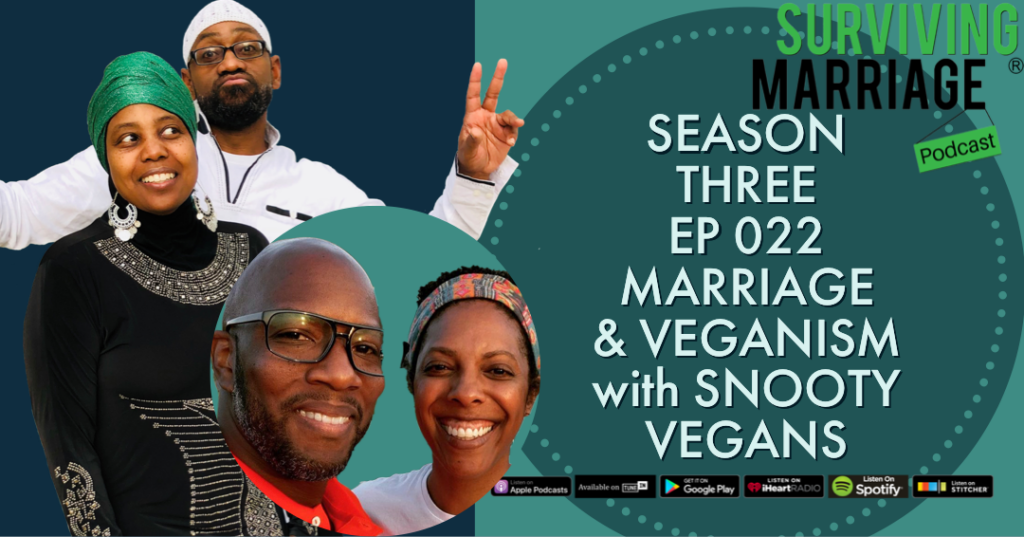 #SurvivingMarriage – Surviving Vegan with Snooty Vegans
Ep 022 – Have you ever thought about going VEGAN? Like for more than a day? Like seriously turning your life over to a plant based diet? Still have reservations? You're going to enjoy this show!
Co-hosts Rufus and Jenny Triplett, husband and wife team, back on the mic and now also visual via their YouTube Channel, welcome husband and wife team and vegan coaches, SNOOTY VEGANS. They are on a journey of living that plant based life and are helping others ease into it as well.
This is the second episode of Season Three. The podcast has expanded to YouTube. Thanks for sharing it around social media. Be sure to share and tell a friend. If you are married, engaged or single, this episode is for you. Also, the insightful Food for Thought segment talks about Marriage Tip #119. This is the twenty-second episode of the Surviving Marriage Podcast. Be sure to SUBSCRIBE. RATE. and REVIEW. Oh, and follow on social media and share with a friend.
ANNOUNCEMENT – The Surviving Marriage Couples Card Game is now available! Pick it up HERE
"99 Problems but a card game aint one!"
SUPPORT OUR SPONSORS:
Use promo code PGLWP1 or LWP and Stay 3 nights & Save up to 50% on Sundays at participating Hilton Portfolio hotels worldwide. CLICK HERE

Enagic Machines – Text "healthy water" to 347.398.1867
Show Notes:
0:00 – Teaser – A bad diet can wreak havoc on a marriage…
0:51 – Intro
1:32 – According to the Vegetarian Times there are 9.7 million vegetarians in the US
3:20  – INTERLUDE…
3:50 – SNOOTY VEGANS

6:47- Healthy Vegan vs Vegan Junk Food…
8:18 – A Bad Physical will scare you straight

9:10 – Leaving the meats but heavy on the sweets
11:12 – Eating whole food vegan is cheaper

13:16 – WE AINT GOIN VEAGAN!
13:57 – Accountability in a Marriage
15:29 – Mistakes happen!
17:58 – Label snobs
20:29 – Best Vegan Dish
25:08 – Get a Snooty Vegan Tshirt – CLICK HERE
26:26 – Food for Thought – MARRIAGE TIP #119

27:28 – ANNOUNCEMENTS – Be Sure to Subscribe. Share. Rate. Review.
30:08 – Ride Out…
Podcast: Play in new window | Download (Duration: 30:40 — 21.1MB) | Embed
Subscribe: Apple Podcasts | Google Podcasts | Spotify | iHeartRadio | Stitcher | TuneIn | RSS | More