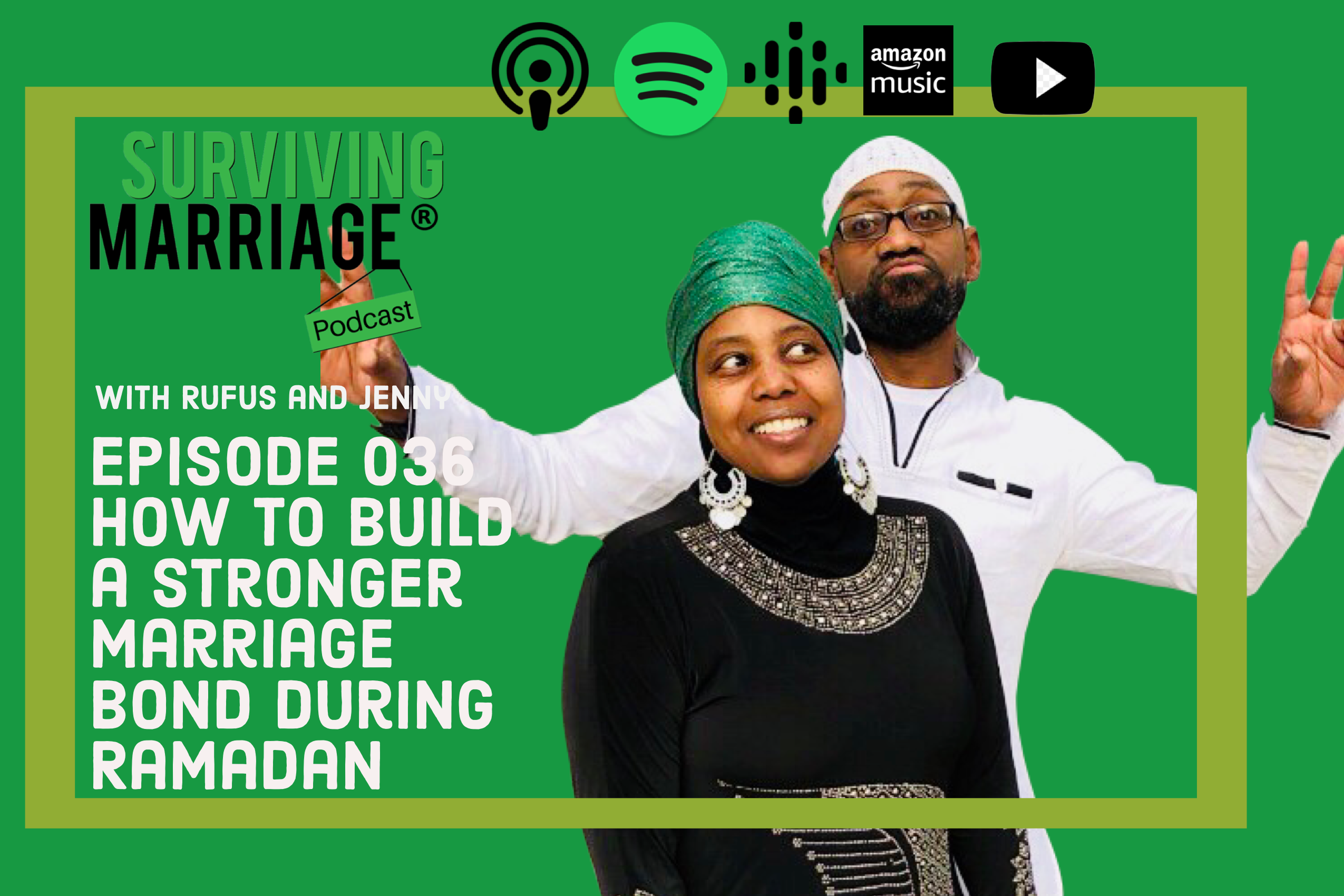 #SurvivingMarriage – How To Build A Stronger Marriage Bond During Ramadan
Ep 037 – We are back for SZN 4 and 10 news shows! ONLY three shows left and this season will be a wrap.
Co-hosts Rufus and Jenny Triplett, husband and wife team, back on the mic and now also visual via their YouTube Channel, detail a list of tips that a married couple can do to build a stranger bond during Ramadan. The most blessed month in Islam often proves challenging for newly married and even couples that have some years into their marriage. The common sense tips are about consideration and communication. That will help make Ramadan blessed and peaceful.
This is the seventh episode of Season Four. The podcast has expanded to YouTube. Thanks for sharing it around social media. Be sure to share and tell a friend. If you are married, engaged or single, this episode is for you. Also, the insightful Food for Thought segment Definition of Happy. This is the thirty-seventh episode of the Surviving Marriage Podcast. Be sure to SUBSCRIBE. RATE. and REVIEW. Oh, and follow on social media @survivingmarriage and share with a friend.
ANNOUNCEMENT – The Surviving Marriage Couples Card Game is now available! Pick it up HERE
"99 Problems but a card game aint one!"
Want to Write a Book? Grab the Self Paced Course HERE
SUPPORT OUR SPONSORS:
Bread And Butter Farms: Zero Chemical, Organically grown produce, grass fed meats and free Range Chicken and Eggs. Join their Farm share now! You get 10 weeks of vegetables for you and your family. They also accept EBT. www.breadandbutterfarms.com for more information.  

Get 30% off of tests! Be sure to USE CODE: rufusandjenny
LanguaTalk – Learn a new language in your free time – CLICK HERE

Get 10% off of your first month! Be sure to USE CODE: rufusandjenny
Show Notes:
0:00 – Teaser – Marriage is a whole test especially during Ramadan
0:59 – Let's Get Checked – see link above
2:19 – BetterHelp – see link above
4:03 – How To Write A Book Course – see link above
5:00 – Intro
5:46 – Send Me That Recipe Book Tour – Booked and Busy
6:45 – Our book was delayed due to the pandemic
8:13 – Our energy transcends more in person
10:03 – Our Ramadans are peaceful

12:50 – Clean House Together
13:56 – You should be doing as much as you can to get rewards during Ramadan
14:55 – Decide on Meals days in Advance
16:48 – We chose not to go to the Masjid a few times due to a shortage of food
18:10 – Set a Daily Study Schedule

19:37 – Find Duas to Put on the Refrigerator
20:42 – Discuss visitation and iftar

21:53 – RufusandJennyTriplett.com/blog
22:35 – Let's Get Checked – see link above
23:56 – BetterHelp – see link above
26:41 – How To Write A Book Course – see link above
26:36 – Food for Thought – Definition of Happiness

28:53 – ANNOUNCEMENTS – Be Sure to Subscribe. Share. Rate. Review.
31:32 – Ride Out…
Podcast: Play in new window | Download (Duration: 32:06 — 22.0MB) | Embed
Subscribe: Apple Podcasts | Google Podcasts | Spotify | iHeartRadio | Stitcher | TuneIn | RSS | More