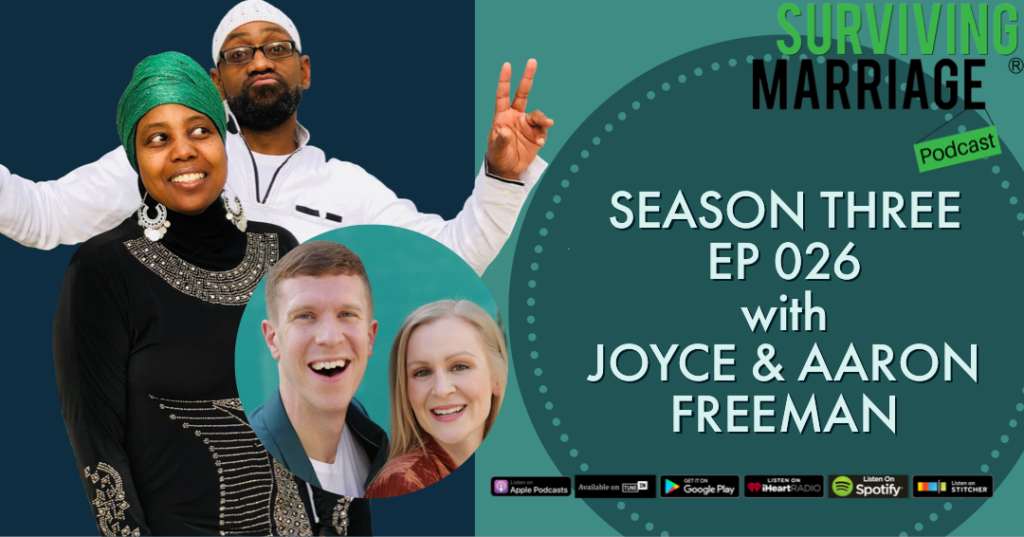 #SurvivingMarriage – Jocelyn & Aaron Freeman – The Argument Hangover
Ep 026 – Writing a book is something that is on a lot of to do lists or bucket lists. Actually completing a book is a great accomplishment. Completing a couples of books puts you in a very small club. Writing them with your spouse, well, that makes you extra special.
Co-hosts Rufus and Jenny Triplett, husband and wife team, back on the mic and now also visual via their YouTube Channel, welcome Jocelyn and Aaron Freeman, also a husband and wife team and authors of the books The Argument Hangover and The New Power Couple. This discussion gets interesting as the reasons why couples are having problems in the 21st Century is voiced from a younger married couples perspective.
This is the sixth episode of Season Three. The podcast has expanded to YouTube. Thanks for sharing it around social media. Be sure to share and tell a friend. If you are married, engaged or single, this episode is for you. Also, the insightful Food for Thought segment asks the question, what did our parents do? This is the twenty-sixth episode of the Surviving Marriage Podcast. Be sure to SUBSCRIBE. RATE. and REVIEW. Oh, and follow on social media and share with a friend.
ANNOUNCEMENT – The Surviving Marriage Couples Card Game is now available! Pick it up HERE
"99 Problems but a card game aint one!"
SUPPORT OUR SPONSORS:
Use promo code PGLWP1 or LWP and Stay 3 nights & Save up to 50% on Sundays at participating Hilton Portfolio hotels worldwide. CLICK HERE

Enagic Machines – Text "healthy water" to 347.398.1867
Show Notes:
0:00 – Teaser – It's hard to write a book together as a couple
1:05 – Intro
2:08 – Reducing our Resume bullet points
3:22  – Ebony Magazine Couple of the Year
4:21 – Book about Marriage

5:32 – We have a new book coming!
6:08 – Joycelyn & Aaron Freeman

9:18 – What are your qualifications?
11:59 – New Power Couple

14:32 – The Argument Hangover
16:42 – Deeper Dive
19:57 – I think I'm about to start an argument
23:33 – Get in touch with The Freemans
24:55 – Food for Thought – If you know, you know

27:06- ANNOUNCEMENTS – Be Sure to Subscribe. Share. Rate. Review.
29:35 – Ride Out…
Podcast: Play in new window | Download (Duration: 30:06 — 27.6MB) | Embed
Subscribe: Apple Podcasts | Google Podcasts | Spotify | iHeartRadio | TuneIn | RSS | More