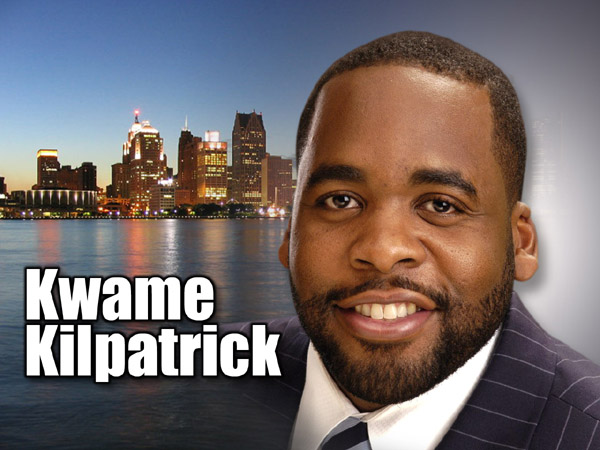 (SCOOP) NOW Former Detroit Mayor Kwame Kilpatrick Wants to be a Flint Whistle Blower from Federal Prison
Our first post regarding former Detroit Mayor Kwame Kilpatrick was  let you all know that we have heard from him while incarcerated. To read that post and his handwritten letter – CLICK HERE.
Coming to you today via The Huffington Post, he sent his family a letter, which in turn sent it to the local Detroit TV Station. After a few fact checks, it is said that the claims are nill. Still very interesting tho. Trying to remain relevant while behind bars must be quite a task.
You can read the entire Huffington Post article here.
If you's like to write Kwame Kilpatrick and ask him about his claims you may do so here.:
Write him in Federal Prison:
Kwame Kilpatrick 44678-039
FCI El Reno
PO Box 1500
El Reno, OK 73036
Here is a snippet of his story The Condemned Man (he provided this to us in his first scribe):
I was thinking about my grandfather today. He is 94 years old, and has lived in Detroit, Michigan for more than 85 years. My grandfather is one of the most fascinating people that I have ever known. Anyone who has ever spent any time with him has received some life and history lesson  of some sort. You see, he has an incredible memory, And even though his physical abilities have slowed a bit, his mind remains razor sharp. He can easily discuss the politics and platforms of Barrack Obama, as he can with those of Harry S. Truman. He is a walking encyclopedia.
While reflecting on him and his greatness, I found myself contemplating a court scene, in the Federal Building in Detroit, during a time of his youth. You know, about 80 years ago. Dig my scene…
We have more of the story…but I guess you all will just have to wait for the book…:)