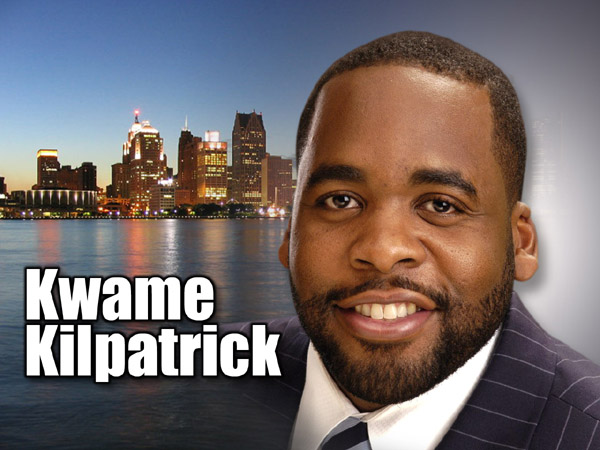 (SCOOP)Former Detroit Mayor Kwame Kilpatrick Speaks Out from a Federal Prison
Well, if you don't know that former Detroit Mayor Kwame Kilpatrick is incarcerated, AGAIN, then maybe you have been out of the country or under a rock. To make a long story short – CLICK HERE to read all about it.
Not only has he written us from his federal housing facility, he also included a chapter of his book he is writing Condemned Man Part I. Well don't we feel fortunate to be getting the scoop in things and are sharing a piece of it with you.
Here is the letter, in his own handwriting, talking about his prison experience thus far:
Dawah International,
Please forgive me for taking so much time to respond to you. I truly appreciate your reaching out to me, as well as all that you do to keep our people informed and able to communicate with one another.
I am well! Of course there are down moments, but for the most part I continue to learn, mature, evolve and transform through this experience.
Please do not hesitate to reach out any time in the future.
Much success to you both in all that you endeavor.
Kwame Kilpatrick
PS. I have included a copy of the story of "The Condemned Man." My Story!
Write him in Federal Prison:
Kwame Kilpatrick 44678-039
FCI El Reno
PO Box 1500
El Reno, OK 73036
Here is a snippet of his story The Condemned Man:
I was thinking about my grandfather today. He is 94 years old, and has lived in Detroit, Michigan for more than 85 years. My grandfather is one of the most fascinating people that I have ever known. Anyone who has ever spent any time with him has received some life and history lesson  of some sort. You see, he has an incredible memory, And even though his physical abilities have slowed a bit, his mind remains razor sharp. He can easily discuss the politics and platforms of Barrack Obama, as he can with those of Harry S. Truman. He is a walking encyclopedia.
While reflecting on him and his greatness, I found myself contemplating a court scene, in the Federal Building in Detroit, during a time of his youth. You know, about 80 years ago. Dig my scene…
We have more of the story…but I guess you all will just have to wait for the book…:)